What to wear according to your hair colour?
When it comes to clothing, morphology is used as a guide to find the cuts that best suit your figure. Just like skin tone, hair colour is a guide to the right colour choices. Often neglected, this criterion nevertheless influences more than 50% of the selection of colours to be worn and to be avoided. Here are a few practical tips to help you match your outfit to the colour of your hair, whether it is natural or not.
Why identify the right colours of clothing?
More than just a matter of taste, colour has a real impact on clothing style, appearance and the image projected to those around you. By standing in front of a mirror when trying on clothes, whether at home or in a shop, a woman can often determine whether or not the chosen piece suits her. Even if the cut and the material are perfect for the figure, sometimes the colour is the detail that can ruin everything. The explanation is very simple. The colour of the top, skirt or jacket simply does not match the hair colour.
Even if the latest fashion trends emphasise one or more distinct shades for the whole year or for a particular season, you should know that a person with a tan complexion and brown hair will not necessarily look the same on another woman with a light complexion and blonde hair. To dress well, it is therefore essential to look for clothing colours that match your hair colour.
Of course, by having an initial overview of the shades that best match your hair colour, you avoid purchases that you may regret later, and which will end up, as we all know, in the back of your wardrobe for years! In addition to saving time and money, you'll simply build a wardrobe that is both fun and functional. You will be able to wear most of your clothes without any complexes and in perfect harmony with yourself. 
What colours of clothes for brunettes?
Clothing experts agree that brunettes have the privilege of wearing a wide variety of colours, with a few exceptions. To avoid styling mistakes, it is still advisable to take your skin tone into account, in order to orient yourself towards cool or warm tones. To do this, we recommend a surprising method... Simply check the colour of the veins on your forearm. That's right! Blue veins indicate that your harmony is cold. On the other hand, if you observe a tinge of green, it means that your harmony is warm. So, is it hot or cold harmony for you?
What to wear for a light-skinned brunette?
As mentioned above, choosing the right colours for brunette clothing also depends on the combination of skin tone and hair colour. If your skin is relatively light and your hair is dark, then your complexion will look quite pale. The best way to mitigate this is to use colour, such as bright reds, deep blues, greens or blacks. Remember that you need contrast! Pastel-coloured clothes for brunettes and variations of white and beige, which tend to accentuate the whiteness of the skin, are therefore to be avoided.
If your hair is dark and your skin is rather matt or tanned, you have the chance to wear all colours... or almost all. Don't be afraid to wear clothes for brunettes in soft, vitamin-rich shades, ranging from raspberry and pink to orange, bottle green, grey and black. Avoid clothing colours that are close to yellow and beige, however, as they will lack the right amount of pizzazz for you. 
What to wear with blonde hair?
Like brunettes, blondes need to be able to identify the colour harmony that enhances their complexion and hair colour. There are many shades of blonde, from platinum and caramel to honey, copper and ash. So, what clothing colour should blondes choose?
Blonde hair and fair complexion
If you are a tall blonde, with the features of a Nordic beauty, i.e. with long, light, shiny hair, light eyes and fair skin, clothing for blondes in cool shades will suit you perfectly and enhance your pale complexion. In this case, opt for the typical colours of the Far North, starting with white, which refers to the cold and snow. Blue clothing for blondes also brings a touch of freshness. Green will match your blonde hair to symbolise elegance and chic. Finally, ruby red will give you a very glamorous look while pink will give your face a delicious doll-like look. Since the skin tone is close to porcelain, it would be much better toavoid blonde clothing with beige tones as well as orange tones that can make the skin colour look very dull.
What clothes for blondes with dark skin?
Of course, if you have light hair but darker skin, do the opposite of what was said above! Go for blonde clothes in shades of light brown and beige that will support your pretty complexion. As for colours, orange and green shades will enhance your naturally tanned skin. Avoid colours that will add darkness to your complexion such as black, deep blue and dark red.
How to dress when you have red hair?
You've probably heard and read it somewhere: bright, sun-kissed red hair should always be paired with sober-coloured clothes for redheads. The goal? To avoid the "too much" effect. This is acomplete misconception ! The principle is simple: it is precisely the particularly intense shades that should be favoured, in order to create a good balance between the clarity of the skin and the fiery mane. Start by choosing gold or gold-plated jewellery that will bring out the warmth of your hair colour and then follow our tips on how to match the colours of your clothes!
Clothes for redheads and light skinned women
If you have red hair, a pale complexion and freckles, then warm autumn colours such as rust, red, yellow and brown will be your best bet. You can also wear clothes for redheads in shades that are the opposite of red hair, i.e. navy blue, purple, royal blue, emerald or fir green, to emphasise the colour of your hair by contrast. However, white, light yellow or pale orange should be avoided to prevent a sad look. On the other hand, if you're looking for freshness and softness, choose pink-coloured redhead clothing that will tone down the liveliness of your hair for a nice visual balance.
If your red hair tends to be blond, it would be preferable to focus on light, bright shades. So go for cyan blue, aniseed green, light pink or turquoise without hesitation. In the opposite case, i.e. for red hair that tends towards brown, the choice of colours is particularly wide. Khaki, emerald, purple, red and brown will be good allies for redhead clothing.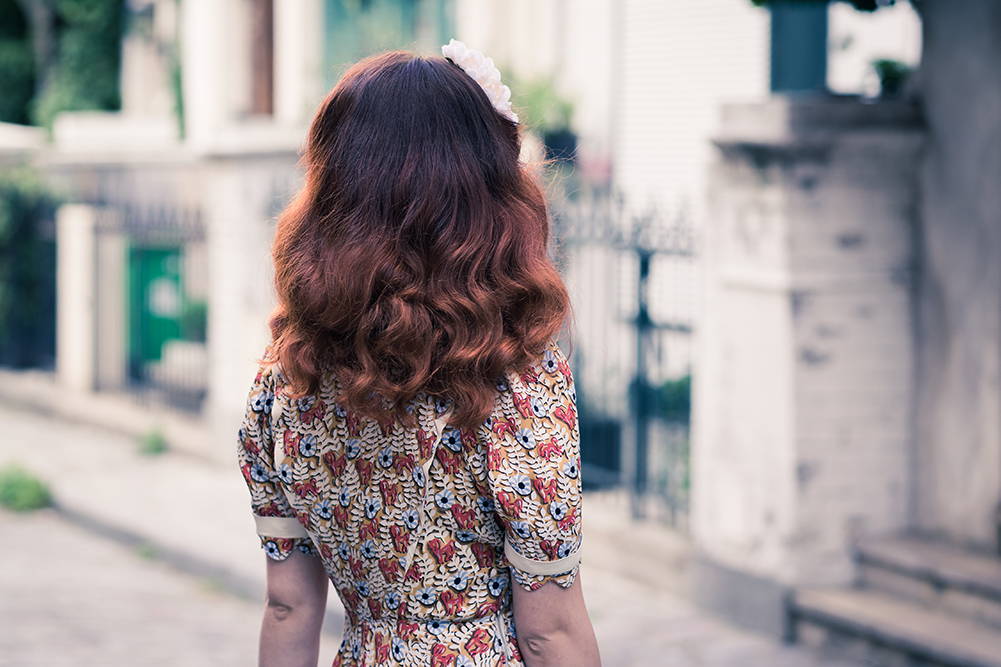 What colours of clothes for grey hair?
Salt and pepper hair: a big trend
For some years now, salt-and-pepper hair has been popular with both young and older women. Whether it is bleached or expressly dyed, this colour is becoming increasingly popular. To avoid dull, lacklustre looks, it is therefore important tocombine itwith the right clothing colours to achieve a pleasantly trendy result.
Grey hair: clothing colours to choose from and to avoid
The range of colours for grey hair is relatively wide. In most cases, red suits people with salt-and-pepper hair, as do pastel colours and blush pink. You can also dress up in cool colours for grey hair, such as fir green, midnight blue, dark purple for a soft colour harmony. Electric blue, white and black also enhance the colour of your hair. Fluorescent colours, shades of brown and beige should be avoided as the combination will lack nuance and look too dull.
Grey hair clothing: the importance of skin tone
Like other hair colours, grey hair colour looks best with specific shades on a pale complexion and darker skin tone. Pastel grey hair clothes, beige and shades of white are highly recommended for darker skin tones. Porcelain complexions will prefer pastel grey hair clothes as well as flashier colours.
Hair with ashy highlights
Ashy hair has a preference for soft, gentle colours, especially on light skin tones. So go for cool, pastel shades like sky blue, water green, pastel pink, pinkish beige or lavender blue. On the other hand, leave out strong, bold colours such as pure white, orange, bronze and khaki.
Hair with copper highlights
Cold colours should be avoided if you have brassy highlights. The best way to enhance your hair is with warm, deep tones. Darker shades are also perfect. So go for orange-red, plum, camel, rust, bronze or khaki. But avoid grey, pink, white, navy blue and pastel colours, as they won't bring out the best in your beautiful highlights .
Hair with golden highlights
Hair with golden highlights goes wonderfully well with shimmering colours. In this case, opt for warm, bright colours. So don't hesitate to dress in coral, peachy pink, golden yellow, vermilion or bottle green. A bright effect is guaranteed! But avoid navy blue, pure white, beige, burgundy and fir green.
The choice of the colour of our clothes depends on several criteria. In order to create a certain harmony in every outfit, it is essential to refer to the shades that enhance your hair colour and create a beautiful ensemble. Visit Loela.co.uk today To find the pieces for brunette, blonde, redhead or grey hair that you need and that will accompany you in all circumstances.